Come Visit the Danish Tech Scene
Interested in the rising Danish startups and AI innovations? Curious about Denmark's pioneering e-governance?
Denmark is the world champion in digitalisation. Combined with a rising startup scene and world-leading research, this is the place to grow strong relations.
Let us help you organise a visit! Our service includes meetings and match-making with the Danish tech scene.
Let us help you organise your delegation's next visit to Denmark
Visit us and learn about
eGovernance
Did you know
Denmark is one of the highest ranking countries in the world when it comes to the digitisation of the public sector.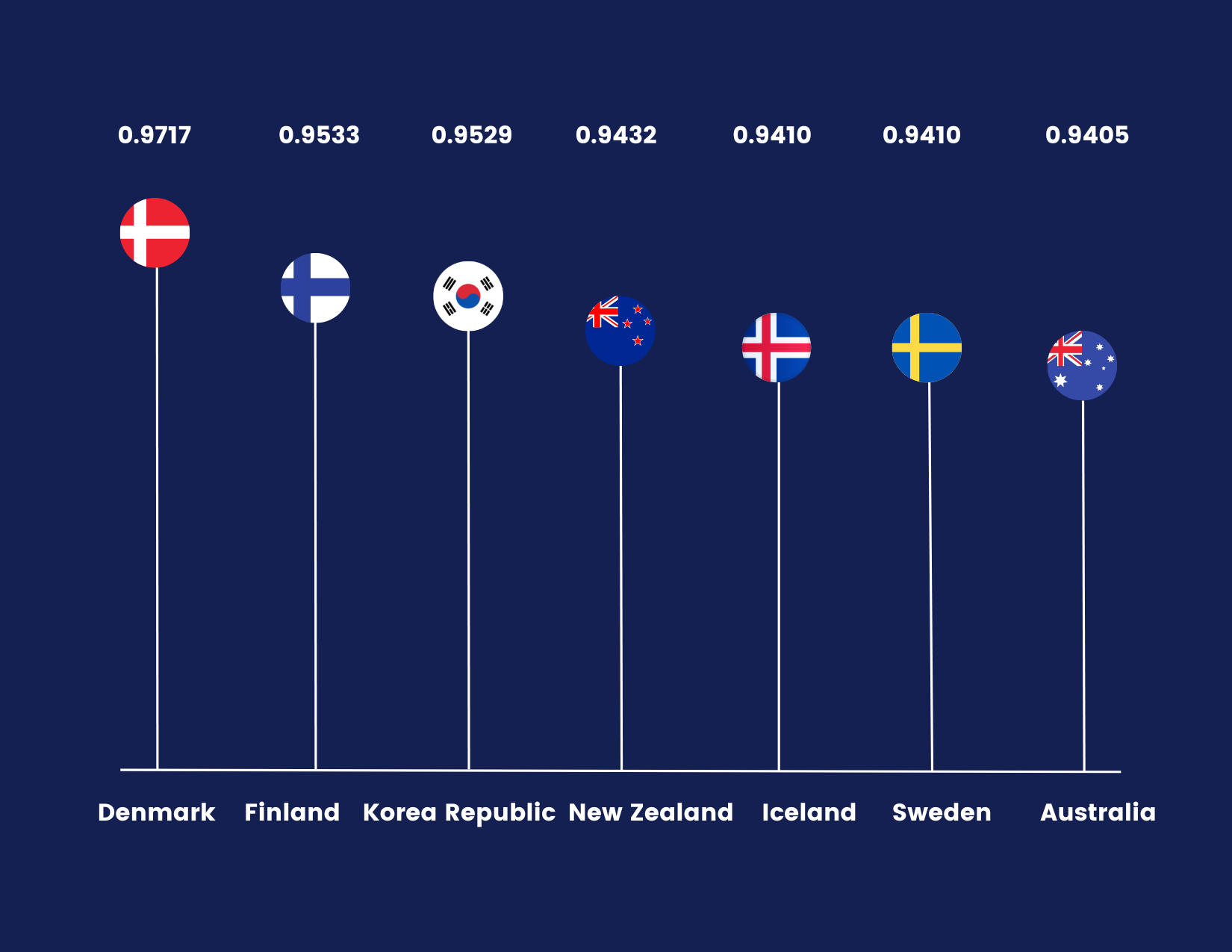 Denmark tops EU's Digital Economy and Society Index (EGDI) in 2017, 2018, 2021 and 2022.
Denmark's digital government readiness and a high adoption of digital tools are just a couple of the reasons why Denmark leads the digital government development.
Denmark ranks at the global top in public digital services. This digital development started back in 1968, where the CPR register was introduced to the Danish society. Since then, the Danish digitalisation evolution has been fast-paced: Public services have moved online; easy access for citizens to public authorities with for instance digital signature and digital mail, and easing the interaction of the private sector with government. These initiatives are among only a few highlights. Learn more about Denmark's digital journey.
How did we achieve this? The Danish government has been focused on creating a central ICT infrastructure that links the national government agencies, local government, and municipalities to common services and solutions. This includes a digital infrastructure, data reuse, data security, digital welfare, and digital business solutions. There are specialised portals for citizens, businesses, and one national health portal. Together with world-class broadband infrastructure, digitally skilled candidates, digitalisation of businesses and e-commerce, and integration of digital technology for SME's, Danish eGovernance is considered outstanding.
Learning from the Danish example There are plenty of learnings from the pioneering initiatives that Denmark has been driving for decades; initiatives that have earned us the title as the most digitised country in the world.
See more about the individual programmes and find the latest national digitalisation strategy for an even more digitalised society.
Our Delegation Service
At Digital Hub Denmark, we work to organise matchmaking between international tech delegations and local Danish solutions, government, research, startups and businesses. If your visit match our mission, we provide you with presentations, meetings and site-visits. Our match-making service and use of the Visitor Center is free of charge. Get in touch to learn more.
Our 750 m2 visitor centre opened in March 2021 in the heart of Copenhagen with state-of-the-art design and an interactive exhibition on the Denmark's digital journey. At the Visitor Center, we welcome you for presentations as well as personalised meetings with the Danish industry. The center also features luggages room, lounge and meeting areas. And the best view of the city!
Sign up for news on the Danish tech landscape
Company Showcases
You may also be interested in
Our Blog
Sign up for news on the Danish tech landscape