The Nordic Fast Track Program
The strong Danish FinTech ecosystem
Denmark is known for its collaborative and progressive fintech ecosystem around the world, with a wave of successful financial technologies and being one of the most digitalised economies on the planet.
To keep fostering innovation, the Nordic Fast Track has been established to help fintech startups around the world to the Danish fintech scene and help them expand and grow with the advice from the Danish fintech experts and successes.
The program
It is an ongoing 2-month program for non-Danish fintech startups who are either live with a product or have a working prototype. The program will help bring the solution into the Danish, Nordic or European market using Copenhagen as a gateway.
The purpose is to accelerate the learning of the local market and to provide a process and connections for you to quickly find your local product-market fit. Copenhagen is a global fintech hub, and the Copenhagen Fintech Lab is not only the gathering point of the Nordic fintech scene but has incubated more than 120 of the local fintech startups.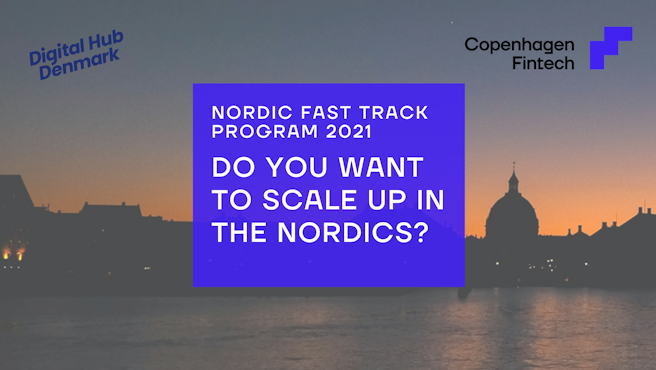 FAQ
April & September

Starting time 2021

Location

Copenhagen Fintech Lab / Online

Target group

Non-Danish fintech startups

Price

Free participation, but require dedication and on-site presence (dependent on C19 restrictions)
Sign up to stay updated on your opportunities in Denmark