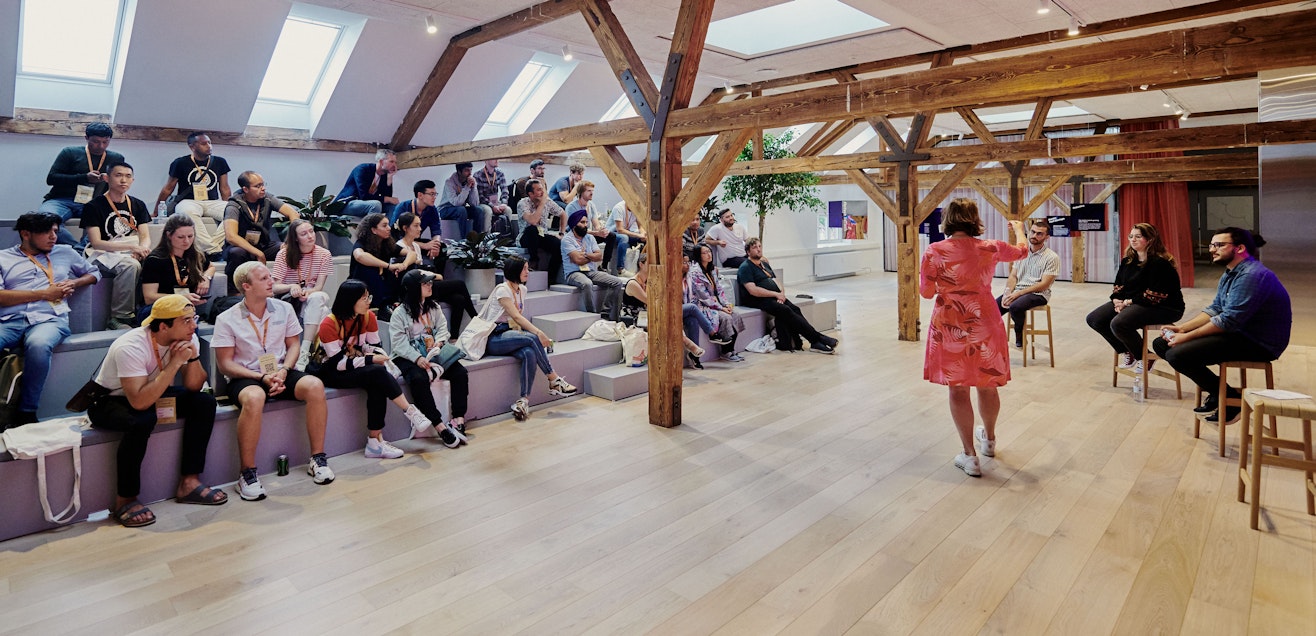 Loved the playful interactive elements in the center! It was a great conversation starter on both the robotics ecosystem and what it's like to work and live in Denmark.
- Morten Nielsen, Senior Innovation Advisor of University of Southern Denmark
Odense Elite Robot Summer School
Visit to the Digital Hub Denmark Visitors Center
40 international elite robotics students
4 companies
1 company presentation
3 international talents talking about working in Denmark
The delegation was 40 international top students from Technical University of Munich, UC Berkeley, UC San Diego, Northeastern University and Chalmers University of Technology and 2 Danish universities. The purpose was to explore the world-class robotics ecosystem in Denmark and Digital Hub Denmark introduced the Danish tech ecosystem while Seasony presented their vertical farming robot before 3 expats working in Denmark shared their experiences.
Key Takeaways
"Very interesting to hear about the expats panel and Seasony pitch and just the robotics community in general."
Programme
July, 30th Friday

Snacks & welcome

@ Digital Hub Denmark Visitor Center

After a long day touring Copenhagen, we offer a quick snack and soft drink to recharge.

Tour of the Visitors Center

@ Digital Hub Denmark Visitor Center

Get a thorough understanding of the digital mechanisms of digital Denmark, and learn how the collaborative nature between the public and private sector have helped establish Denmark as the most digital nation in Europe.

Why Denmark?

@ Digital Hub Denmark Visitor Center

Learn about the Danish values and how we do digital differently. Presenting what it is that makes Denmark stand out as a digital frontrunner and how we are able to attract top international talent.

Starting a robotics company in Denmark

@ Digital Hub Denmark Visitor Center

What is it like to be part of the Danish robotics ecosystem as a founder? Servet Coskun from Seasony presenting their vertical farming robot and providing insights into the life of a founder, how they've leveraged the ecosystem, raised funding from business angels specialising in robotics and building a platform robotics startup.

Talented in Denmark

@ Digital Hub Denmark Visitor Center

Hear the stories of 3 expats living and working in Denmark and get a firsthand insight into what Danish culture is like seen from an international perspective. Learn about the Danish work-life balance, flat hierarchy, the relocating experience and being able to purchase your own home.

Presenters:

João Carlos Espiúca Monteiro

Tech Lead, Blue Ocean Robotics

Diana Trifon

Robotics Lead Engineer, QuadSAT

Jacobo Domingo Gil

COO and Co-Founder, Robotto

Burgers & chill

@ Digital Hub Denmark Visitor Center

To wrap things up, we offer delicious sliders from a famed Danish restaurant, a cold drink and for those braving the chilled water, an evening swim in the Copenhagen harbour by the famous Islands Brygge.
Want to visit Denmark as a delegation?
On our website you can now find itineraries from visits at the centre. If you are an international delegation curious on Danish tech and digitisation you can get inspired and request a visit.
Danish Tech straight to your inbox